Calvinism
Truth overview: Calvinism, which is a central belief of most "reformed" churches and a secret belief in some baptist churches, is the unbiblical view that God has specifically chosen some individuals to go to heaven and others to go to hell. The truth is that God has chosen believers to go to heaven and unbelievers to go to hell. Calvinism's convoluted doctrines include its infamous five points (TULIP). The points will be answered with scripture below. Overall, Calvinism is a belief system that holds tight to a couple of pet passages, while completely disregarding the rest of the Bible. 
Key Literature: The following information is based mostly on excerpts from: Bible vs. Calvinism (PDF) by Logan Fowler. We encourage you to read this entire tract for a full understanding of the topic.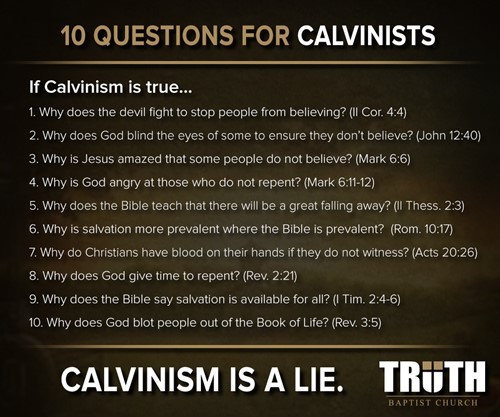 LIE #1: "YOU COULDN'T GET SAVED IF YOU WANTED TO (TOTAL DEPRAVITY)"
This lie, most often referred to as "Total Depravity," is completely at odd with the Bible. God commands and wants all men everywhere to repent. Only a maniacal villain would command someone to do something they could not do. This is not the nature of God as shown in the Bible. 
Acts 17:30 "And the times of this ignorance God winked at; but now commandeth all men every where to repent:"
2 Pet. 3:9 "The Lord is not slack concerning his promise, as some men count slackness; but is longsuffering to us-ward, not willing that any should perish, but that all should come to repentance."
Yes, all men are dead in trespasses and sins before they're saved (Eph. 2:1), however, the word of God has the power to breathe life into any soul that is willing to seek God. The Bible has the power to make alive. Calvinists deny this. Note: "quicken" means to make alive.
John 5:24 "Verily, verily, I say unto you, He that heareth my word, and believeth on him that sent me, hath everlasting life, and shall not come into condemnation; but is passed from death unto life."
Psalm 119:50 "This is my comfort in my affliction: for thy word hath quickened me."
Psalm 119:93 "I will never forget thy precepts: for with them thou hast quickened me."
Psalm 119:154 "Plead my cause, and deliver me: quicken me according to thy word."
Psalm 119:156 "Great are thy tender mercies, O Lord: quicken me according to thy judgments."
John 6:63 "It is the spirit that quickeneth; the flesh profiteth nothing: the words that I speak unto you, they are spirit, and they are life."
Rom. 10:17 "So then faith cometh by hearing, and hearing by the word of God."
I Pet. 1:23 "Being born again, not of corruptible seed, but of incorruptible, by the word of God, which liveth and abideth forever."
2 Tim. 3:15 "And that from a child thou hast known the holy scriptures, which are able to make thee wise unto salvation through faith which is in Christ Jesus."
1 Cor. 1:18-21 "For the preaching of the cross is to them that perish foolishness; but unto us which are saved it is the power of God. For it is written, I will destroy the wisdom of the wise, and will bring to nothing the understanding of the prudent. Where is the wise? where is the scribe? where is the disputer of this world? hath not God made foolish the wisdom of this world? For after that in the wisdom of God the world by wisdom knew not God, it pleased God by the foolishness of preaching to save them that believe."
Heb. 4:12 "For the word of God is quick, and powerful, and sharper than any twoedged sword, piercing even to the dividing asunder of soul and spirit, and of the joints and marrow, and is a discerner of the thoughts and intents of the heart."
LIE #2: "GOD ONLY PICKED CERTAIN INDIVIDUALS AND FOR NO REASON AT ALL (UNCONDITIONAL ELECTION)"
This lie is called "Unconditional Election" in the Calvinist handbook and it is easily refutable by scripture. To correctly understand this topic one must understand the correct interpretation of Biblical terms such as "elect" and "ordained."
John 1:12 "But as many as received him, to them gave he power to become the sons of God, even to them that believe on his name:"
From this verse we see that God has given all those who receive Christ the power to become the sons of God. This is clearly a "condition" for election to salvation. This verse proves the following: (1) God elected a specific group to receive salvation, and (2) the condition for being a part of this group is believing in and receiving Christ.
The fact that there is a condition necessary to become a part of the elect is shown throughout the Bible. Even passages that many Calvinists use to support their doctrines are at odds with unconditional election.
1 Pet. 1:2 "Elect according to the foreknowledge of God the Father…"
Because this first shows God choosing people ahead of time, Calvinists conclude that election must be unconditional. However, this verse says quite the contrary. If individuals are elected unconditionally, and the decision is not at all based upon a man's choice to believe, God would have no need to look into the future whatsoever. If Calvinist doctrine is true, this version should simply read, "elect according to God" because what need would God have to look into the future to elect someone at random? The correct interpretation of this passage is that God used his foreknowledge to look into the future and elect all those who believe.
Eph. 1:4 "According as he hath chosen us in him before the foundation of the world, that we should be holy and without blame before him in love:"
Though often misconstrued by Calvinists, this verse in Ephesians is a great verse to understand how election really works. Before the world was even formed, God chose all those "in him" (in Christ) to receive salvation. In other words, God did not select specific individuals as winners and losers ahead of time regardless of conditions, but he selected a group—all those who believe! This is commonly referred to as "corporate" or "group election" and is the correct interpretation of the Bible.
Heb. 5:9 "And being made perfect, he became the author of eternal salvation unto all them that obey him;"
Additional proof that the term "elect" applies to all believers and not random individuals can be found in the following verses. Election for a Calvinist happens before salvation, thus, there could be both saved and unsaved elected individuals at a given time. But note how the term "elect" is used exclusively for saved individuals in the passages below.
Matt. 24:31 "And he shall send his angels with a great sound of a trumpet, and they shall gather together his elect from the four winds, from one end of heaven to the other."
Rom. 8:33 "Who shall lay any thing to the charge of God's elect? It is God that justifieth." 
LIE #3: "CHRIST'S SACRIFICE WAS ONLY FOR A SELECT FEW
(LIMITED ATONEMENT)"
Of the five points of Calvinism, it could be argued that the doctrine of limited atonement stands as the starkest contradiction to Biblical truth. The Bible is clear that there is nothing limited about the sacrifice of our Savior; nevertheless, Calvinists continue to confine the power of Christ's blood and the convicting power of the word of God. Jesus died for all, and His blood is capable of atoning for the sins of whosoever believes.
Rom. 5:18 "Therefore as by the offence of one judgment came upon all men to condemnation; even so by the righteousness of one the free gift came upon all men unto justification of life."
Rev. 22:17b "…And whosoever will, let him take the water of life freely."
Some Calvinists say the doctrine of limited atonement would be more appropriately named something along the lines of "intentional atonement" or "particular atonement." They do this to get away from sounding to limit Christ's sacrifice, and to point out that Christ paid the penalty for the sins of a certain group.
This latter point is actually one that non Calvinists believe in, though it seems some Calvinists do not realize this. Christ's sacrifice did save one particular group--all those who believe! If you believe and understand the truth of corporate election, i.e. God elected all those who believe, then all verses of the Bible fit together like a glove.
If you believe in individual election and limited atonement though, you will always struggle with the overabundance of verses that show salvation is available for all. A small sample of such verses are listed below.
I Tim. 2:4-6 "Who will have all men to be saved, and to come unto the knowledge of the truth. For there is one God, and one mediator between God and men, the man Christ Jesus; Who gave himself a ransom for all, to be testified in due time."
Heb. 2:9 "But we see Jesus, who was made a little lower than the angels for the suffering of death, crowned with glory and honour; that he by the grace of God should taste death for every man."
Acts 17:30 "And the times of this ignorance God winked at; but now commandeth all men every where to repent:"
Isaiah 45:22 "Look unto me, and be ye saved, all the ends of the earth: for I am God, and there is none else."
Isaiah 53:66 "All we like sheep have gone astray; we have turned every one to his own way; and the Lord hath laid on him the iniquity of us all."
Titus 2:11 "For the grace of God that bringeth salvation hath appeared to all men"
Rom. 10:13 "For whosoever shall call upon the name of the Lord shall be saved."
One argument that Calvinists often use is that an "unlimited atonement" means that Christ's death really didn't save anyone. This is again a failure to understand the opposing viewpoint. Jesus' death on the cross and his resurrection saved all those who believe. Therefore, His sacrifice is not limited or bound whatsoever, it accomplishes exactly what it was meant to.
1 John 2:2 "And he is the propitiation for our sins: and not for ours only, but also for the sins of the whole world."
Did Christ save everyone in the world? No. Did Christ make salvation available to everyone in the world? Absolutely.
LIE #4: "PEOPLE CAN't RESIST GOD'S SAVING GRACE (IRRESISTIBLE GRACE)"
Heb. 2:3 "How shall we escape, if we neglect so great salvation; which at the first began to be spoken by the Lord, and was confirmed unto us by them that heard him"
Non Calvinists believe that in the same manner each man has a free will to receive God's grace, every man also has the free will to resist it. Calvinists, though, do not agree with the latter point, and this doctrine they call "Irresistible Grace." The belief is at odds with many clear cut passages in the Bible.
Acts 7:51 "Ye stiffnecked and uncircumcised in heart and ears, ye do always resist the Holy Ghost: as your fathers did, so do ye."
Acts 13:46 "Then Paul and Barnabas waxed bold, and said, It was necessary that the word of God should first have been spoken to you: but seeing ye put it from you, and judge yourselves unworthy of everlasting life, lo, we turn to the Gentiles."
Notice the following passage in Hebrews which talks of someone partaking of the Holy Ghost and then falling away. This passage can only mean two things. Either Christians can lose their salvation, which we know is absolutely wrong, or individuals can resist and reject the Holy Ghost even after It has convicted a man and brought him to the verge of repentance. Ultimately, this section of scripture teaches that such a man has rejected his last chance to be saved.
Heb. 6:4-6 "For it is impossible for those who were once enlightened, and have tasted of the heavenly gift, and were made partakers of the Holy Ghost, and have tasted the good word of God, and the powers of the world to come, if they shall fall away, to renew them again unto repentance; seeing they crucify to themselves the Son of God afresh, and put him to an open shame."
The truth of the Bible is that man has been resisting God's grace and rejecting God's gospel since the dawn of time. This is why the Bible is riddled with God's expressed disappointment in mankind.
Matt. 23:37 "O Jerusalem, Jerusalem, thou that killest the prophets, and stonest them which are sent unto thee, how often would I have gathered thy children together, even as a hen gathereth her chickens under her wings, and ye would not!"
John 5:40 "And ye will not come to me, that ye might have life."
Prov. 1:24-25 "Because I have called, and ye refused; I have stretched out my hand, and no man regarded; but ye have set at nought all my counsel, and would none of my reproof:"
Acts 28:27 "For the heart of this people is waxed gross, and their ears are dull of hearing, and their eyes have they closed; lest they should see with their eyes, and hear with their ears, and understand with their heart, and should be converted, and I should heal them."
Heb. 4:6 "Seeing therefore it remaineth that some must enter therein, and they to whom it was first preached entered not in because of unbelief:"
The fact that people reject God's grace every day and the devil is waiting to take the seed out of a man's heart makes the need for Christians to witness even greater. An unfortunate side effect of the doctrine of irresistible grace is that is makes the need to witness and share the gospel irrelevant. If God's grace is irresistible and elected individuals are guaranteed to come to the truth, then there is little need, if any at all, to plant or water as Paul describes in I Corinthians 3.
But, alas, we can rest assured that there is a definite battle for souls and one battlefield is inside the heart of man.
Heb. 3:12-19 "Take heed, brethren, lest there be in any of you an evil heart of unbelief, in departing from the living God. But exhort one another daily, while it is called To day; lest any of you be hardened through the deceitfulness of sin. For we are made partakers of Christ, if we hold the beginning of our confidence stedfast unto the end; While it is said, To day if ye will hear his voice, harden not your hearts, as in the provocation. For some, when they had heard, did provoke: howbeit not all that came out of Egypt by Moses. But with whom was he grieved forty years? was it not with them that had sinned, whose carcases fell in the wilderness? And to whom sware he that they should not enter into his rest, but to them that believed not? So we see that they could not enter in because of unbelief."
A man is not only condemned because of his sin, but also because he chose to not believe.
Heb. 5:9 "And being made perfect, he became the author of eternal salvation unto all them that obey him;"
John 3:18 "He that believeth on him is not condemned: but he that believeth not is condemned already, because he hath not believed in the name of the only begotten Son of God."
The witness of Christians is of great importance in this fight for souls. And, to reiterate an earlier section, the key that God uses to open a man's eyes is the Bible.
2 Cor. 5:18-20 "And all things are of God, who hath reconciled us to himself by Jesus Christ, and hath given to us the ministry of reconciliation; To wit, that God was in Christ, reconciling the world unto himself, not imputing their trespasses unto them; and hath committed unto us the word of reconciliation. Now then we are ambassadors for Christ, as though God did beseech you by us: we pray you in Christ's stead, be ye reconciled to God."
A popular saying among Bible believers is that the key to salvation is the heart. These two verses in Psalm attest to the truth of the saying.
Psa. 34:18 "The Lord is nigh unto them that are of a broken heart; and saveth such as be of a contrite spirit."
Psa. 51:17 "The sacrifices of God are a broken spirit: a broken and a contrite heart, O God, thou wilt not despise."
To fit this concept into Calvinist theology, one would argue that God softens the heart of an elect man and thus he seeks and receives the gospel. However, in the Calvinist viewpoint there is no easy place to fit the many verses in the Bible that show man actually hardens his own heart—i.e. resists the truth and God's grace. If some men are born as part of the unelect, would they not be born with a heart that is already hardened? To say that a man can harden his heart is to say a man once had a heart capable of believing.
Zech. 7:12 "Yea, they made their hearts as an adamant stone, lest they should hear the law, and the words which the Lord of hosts hath sent in his spirit by the former prophets: therefore came a great wrath from the Lord of hosts."
2 Chron. 36:13 "And he also rebelled against king Nebuchadnezzar, who had made him swear by God: but he stiffened his neck, and hardened his heart from turning unto the Lord God of Israel."
We are commanded in multiple passages not to harden our hearts.
Heb. 3:15 "While it is said, To day if ye will hear his voice, harden not your hearts, as in the provocation."
Such people who reject God's truth are described as "being past feeling" in Ephesians. Does this not imply that they were once at a point of feeling? Doesn't exactly sound like the dead-in-the-coffin description Calvinists give for the non-elect, does it?
Eph. 4:17-19 "This I say therefore, and testify in the Lord, that ye henceforth walk not as other Gentiles walk, in the vanity of their mind, Having the understanding darkened, being alienated from the life of God through the ignorance that is in them, because of the blindness of their heart: Who being past feeling have given themselves over unto lasciviousness, to work all uncleanness with greediness."
LIE #5: "A SAINT'S PERSEVERANCE PLAYS A ROLE IN SALVATION
(PERSEVERANCE OF THE SAINTS)"
The Bible is very clear that salvation is something which cannot be lost. Once saved, always saved.
John 5:24 "Verily, verily, I say unto you, He that heareth my word, and believeth on him that sent me, hath everlasting life, and shall not come into condemnation; but is passed from death unto life."
Jesus Christ paid the price for your sins once. If you believe this then you are sealed in Christ forever.
John 10:28 "And I give unto them eternal life; and they shall never perish, neither shall any man pluck them out of my hand."
Eph. 1:13 "In whom ye also trusted, after that ye heard the word of truth, the gospel of your salvation: in whom also after that ye believed, ye were sealed with that holy Spirit of promise."
Eph. 4:30 "And grieve not the holy Spirit of God, whereby ye are sealed unto the day of redemption."
However, point "P" of the Calvinist acronym TULIP doesn't stand for preservation of the saints. It stands for perseverance of the saints, which is something entirely different. The perseverance of a Christian plays absolutely no role in retaining salvation. Salvation is assured by Christ and Christ alone.
Calvinists will often state that this doctrine simply means that saints persevere because they are preserved by God, yet the fact remains that the title of this last doctrine leaves something to be desired. It is grossly erroneous at face value, and is misleading and confusing at best. Furthermore, because point "P" is so intertwined with the other four doctrines of Calvinism, it is no doubt safe to do away with all five points and simply stick with the Bible.
In conclusion, here is a verse which perfectly shows God's heart on the entire matter. He wants everyone to turn to Him, and asks why people do not turn to Him. This God does not at all fit within the Calvinist narrative.
Ez. 33:11 "Say unto them, As I live, saith the Lord God, I have no pleasure in the death of the wicked; but that the wicked turn from his way and live: turn ye, turn ye from your evil ways; for why will ye die, O house of Israel?"
Read More: Bible vs. Calvinism (PDF)